In today's game you hear A LOT about topspin, the flick of the wrist, the new string/racket technology that enables a player to generate MASSIVE spin and power. Of course it's true that the tennis equipment we use now is better than it has ever been before… But one thing has not changed and it's a simple thing.
There is NO single tip/trick or piece of equipment that will help you generate more power than making GOOD CONTACT.
THE BENEFITS OF GOOD CONTACT
1. More Power (Center of Strings or Sweet Spot)
2. Less Unforced Errors (Control angle of Racket Face at Contact)
3. Reduce chance of injury (Good Contact is easier on the body)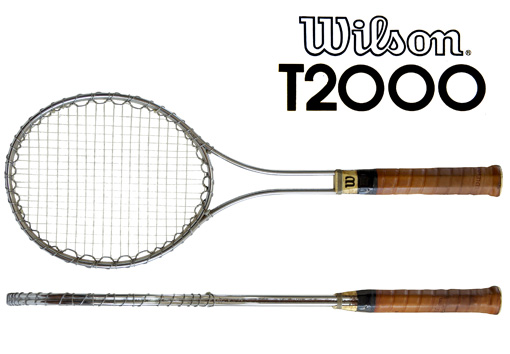 Just look at that T-2000 and imagine how hard it would be to play your next match with it! Jimmy Connors stuck with that racket while the rest of the tour was adopting the new rackets and technology. AND JIMMY KEPT WINNING!!
Connors had to make GREAT contact on every shot to win matches with a racket like that. Today we can get away with not so great contact and still hit a decent ball but if you want to step your game up, use these tips to start improving your contact point right away!
TIP #1: Keep your preparation simple!
Tennis is a sport where we can over complicate things and it's important to make your stroke as simple and easy to reproduce as you possibly can. Jimmy Connors would take his racket straight back, get his butt-cap pointed at the ball and RIP IT!!
TIP #2: Watch the Ball to contact!
This is a simple tip that is difficult to master. Use the drills in today's video to become more aware of how well you watch the ball to contact and remember you have to see the ball meet the strings to give yourself your best chance to hit a great shot.
TIP #3: Extend the Hitting Zone!
Andre Agassi gives a great tip on how to consistently have solid contact with the ball… FOCUS on the 6 inches your strings must travel right before meeting the ball and then focus on the 6 inches your racket must swing through AFTER making contact with the ball.
To learn more, get the drills to work on these tips with and see this stuff IN ACTION, CLICK HERE for today's free BONUS TRAINING on mastering the contact point.