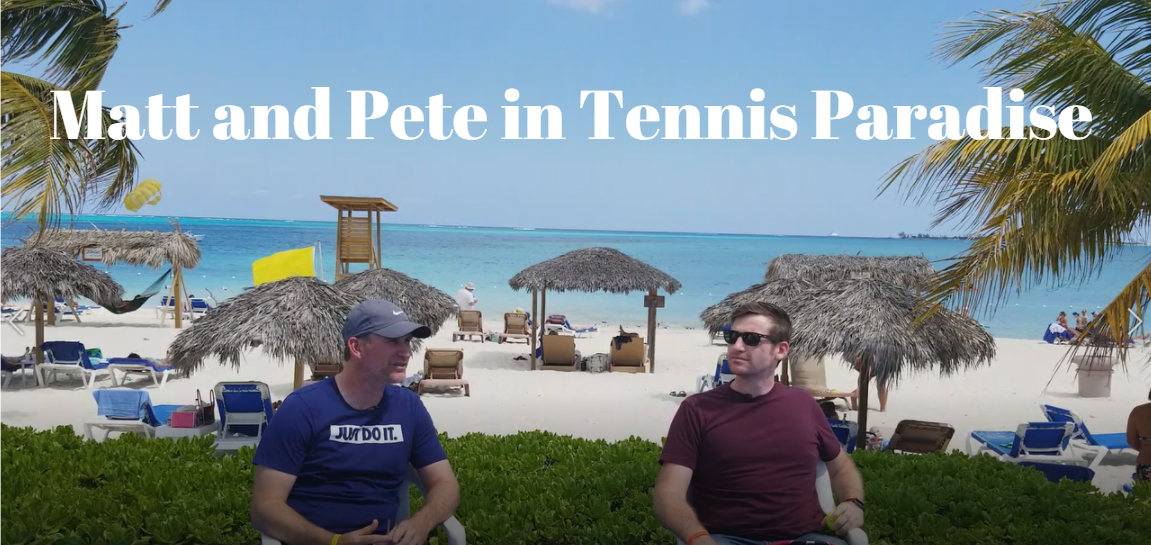 Tennis has been there time and time again for me to lift me up when I am down.
If you have followed you know I lost my sister a couple of weeks ago which was a devastating loss.
In fact, if this Bahamas trip was not already planned I definitely would not have gone on the trip.
But I am so happy I did!
Matt and I had an absolute blast.
Teaching tennis to some really cool people, seeing the most beautiful sites everyday, nightly entertainment, and all the food and drink you can handle!!!
Does it get any better?
Judge for yourself.
Enjoy our Brand New Sites and Sounds Video…Tennis is the Bahamas with Matt and Pete!
Hey if you loved this VIDEO and Want to know about the NEXT Time we have an awesome tennis trip
planned Click the Button Below to Get on our Tennis Getaways with Matt and Pete Alert List!

Great News!!! Closer Camp 3 Spots Left  June 8,9,1o 
Want to train with Pete and Matt and work on your OFFENSIVE tennis skills?
Join us in Atlanta June 8,9,10 for 23 Hours of Tennis and a whole lot of FUN!
There are ONLY 3 Spots LEFT…We are just taking 10 Total so you get MAX attention and improvement.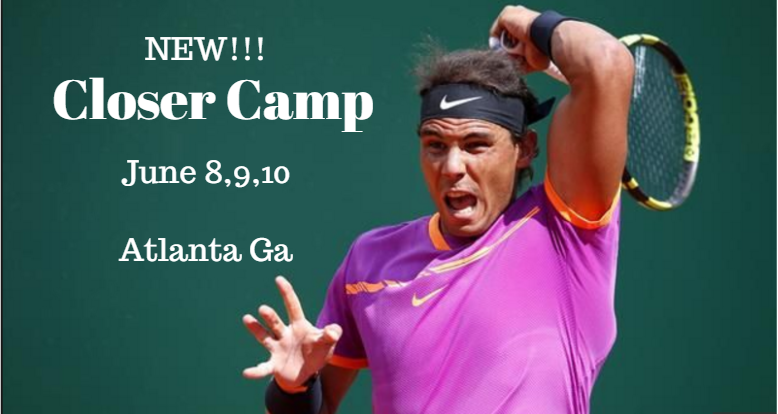 Let Me Tell You What the Weekend Will Be LIKE!!!!
First we start off bright and early on Friday morning at 8 am. This is where you check in, get your CLOSER T-Shirt, meet the gang, and get on the court for a warm up and fun hit.
Then at 8:45 It is DRILL TIME BABY!!!!
Here is what you will be working on over the weekend!!!
The Big Banger Forehand– So your opponent pays hitting you Blooper Sitter Shots!
The Super Spinner Approach Shot– This allows you to still swing with confidence as you get closer to the net
The Forehand & Backhand Slider– So you can hit LOW, Flow, and Go get your easy pop up Volley!
The Bully Backhand Approach- Trade in your weak backhand approach an aggressive style backhand that climbs all over the competition
The Badangle Approach Shot- This is where you come up into the court and hit a nasty angle approach that has your opponent running into the fence
Picture Perfect Volleys- Improve you form, accuracy, power, and touch on the volley by mastering the technique
Smash Attack Overheads- One of the hardest things about tennis is playing the perfect point and having to finish the point with an overhead. Learn how the pros consistently crush away overheads.
Plus Learn:
Singles Closing Strategies
Doubles Closing Strategies
Plus Bonus Training:
Slice Serve Bonus Training
Kick Serve Bonus Training
Most people on YouTube usually first find one of my serve videos. The slice and the kick serve are my two best shots and I have a high success rate of teaching this to students in ONE day!
Plus GET a Private Lesson with Pete
I am so excited to meet everyone and GET to know you and your GAME!
Everyone will have the opportunity to work with me ONE on ONE to improve any stroke
of their choice so START making your WISH LIST!
Plus Get Your Stroked Analyzed!
I am a BIG Believer is the POWER of VIDEO…
Obviously.
Most tennis players I meet have NEVER seen themselves on video.
This is a tremendous opportunity to identify exactly where the stroke breaks down and how to go about making it fundamentally sound!
Play for the First Annual Golden Cup!
In the afternoon we will have competitive match play where you put your offensive skills to the test!
You will play on a team and be competing for the FIRST ANNUAL Golden CUP!
FUN FUN FUN!!!!
Plus we will be holding our First Annual Closer Awards for camp standouts in the areas of effort, improvement, sportsmanship, and MORE!
THAT IS 23 HOURS OF TENNIS!
Friday 8 am to 4 pm
Sat 8 am to 4 pm
Sun 8 am to 3 pm
AWESOMENESS!!!
Now don't let the hours intimidate you this is NOT a ball machine factory or a HIGH Performance Junior Camp!
This is an Adult Tennis Camp for tennis players rated between 3.0 to 4.5 who are eager to improve and LOVE being around other passionate tennis players!
You will hit plenty of balls, but also get a lot of detailed step by step instruction!
FINALLY OUR EVENT IS GOING TO BE VERY SOCIAL!!!!
My absolute favorite thing about our Cincinnati Master Class Clinic is our Saturday Night Dinner at the Spring House!!
I feel this bonding experience has helped us all develop friendships for LIFE!
To me that is the MOST Valuable Part of the trip!
So both Friday and Saturday Night we will go out to Dinner as a Group!
Of course this optional but I hope everyone decides to GO OUT to Dinner with Me and Matt because it is JUST a BLAST!!!!
Wow writing this email actually GOT me REALLY PUMPED UP for JUNE!
How about you?
CLICK HERE TO LEARN MORE and RSVP…REMEMBER ONLY 3 SPOTS LEFT
Pete