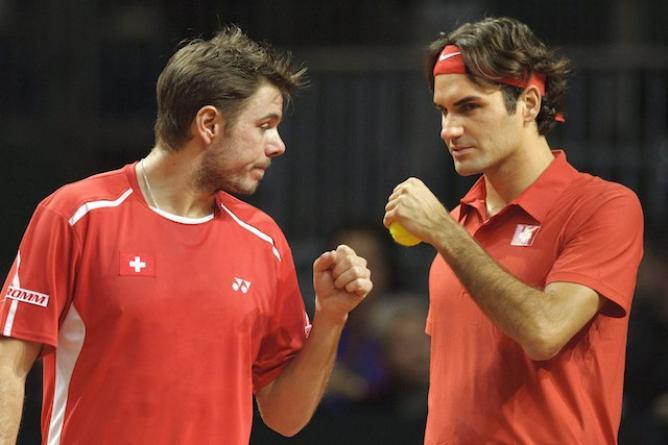 I am so excited for the U.S. Open Semi-Final Match between Roger and Stan! It should be a great match and it has me thinking…" Who has the mental edge Roger or Stan?"
In today's blog post I will give you my thoughts on who I think has the mental edge and my prediction on who will win the match.
INSIDE THE NUMBERS
HEAD TO HEAD: Federer Leads 16-3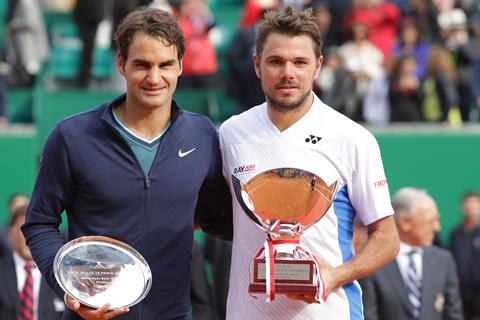 Federer's head to head is very lopsided in his favor but how important is this going into the match for both players confidence? I'm not so sure this intimidates Stan so much because he stomped Federer 6-4 6-3 7-6(4) in their last meeting at the French Open.
However, Stan has never beat Roger on a hard court and  just before the French, Fed crushed Stan 6-4-6-2 in Rome.
I'm not sure either player can really think about Head to Head as a mental edge because over the last couple of years so many of their matches have been very close.
PUSH(believe it or not)
GRAND SLAM SUCCESS: Federer Leads 17-2
Federer with 17 majors has plenty of reason to feel confident against anyone and many of his peers consider him the best player ever. However, Federer has not won a Grand Slam since 2012. Stan only has 2 but has won a major in 2014 and 2015. I still think you have to give the edge to Federer here though because he has won the U.S. Open 5 times and Stan has never reached the final.
PUSH
2015 Who is Having the Better Year?
Federer: 54-7                            Wawrinka: 40-12
Ranking: 2                                 Ranking: 4
Titles 5                                        Titles: 3
Federer is the arguable the hottest player on tour getting to the Finals of Wimbledon and beating Djokovic in the finals of the Western and Southern Open. But Stan has to feel good coming in knowing he beat Roger in their last meeting and beat huge serving Ken Anderson 6-0 in his final set.
Roger also has to be sky high too walking on the court knowing he just toyed with Gasquet 6-3, 6-3, 6-1.
Advantage Federer

STYLE OF PLAY MATCH UP ADVANTAGE: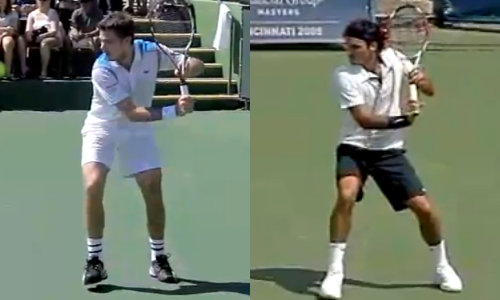 Who has the better backhand?
I think Stan clearly hits a bigger heavier ball but Fed has a little more variety in especially on the slice.
Advantage Stan
Who has the better Serve?
On the serve I give the edge to Federer, but Stan has had a lot of practice time against that serve so he is used to it.
Advantage Federer
Who has the better Forehand?
I think Federer's forehand is more explosive and goes through the court faster, but Stan's is heavier and Roger typically struggles against a heavy hitter especially when they can find his backhand.
Advantage Federer
Who has the better net game?
Well Roger has always looked beautiful around the net, but in the past I felt he would not come in enough and miss easy volleys. Now he is attacking every chance he gets and is sharp as a tack. This one is a no-brainer Federer all day long.
Advantage Federer
Who has the better return game?
I would stay this was a tough one. Federer has always been a great returner but in the past would get too conservative especially on break points. Stan has a great return as well, he can attack on the return which often result in winners, he also likes to move back sometimes as return a high heavy ball, and he can defend well chipping off both wings to get himself in the point.
But lately Federer has stepped up the pressure with his super aggressive Kamikaze Return Tactics(I made a video on it if you are not familiar Click Here).
Advantage Federer
Endurance
One of the most underrated parts of Federer's game has to be his endurance, especially his ability to play has such a high level week after week and year after year. However, if it comes down to one match, I give the advantage to Stan "the Man". Stan has been involved in more epic 5 set battles over the last couple of years and is a little younger.
Advantage Stan
All Around Game:
Roger clearly has more all around variety and has revolutionized his net game thanks to Edberg. Also, I think a faster hard court will reward Roger's aggressive tactics.
Advantage Federer
FINAL PREDICTION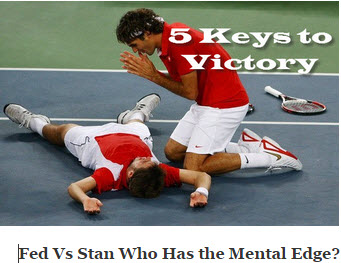 Predicting the outcome of this match is very challenging but I am going with Roger.
Here are my keys to a Roger Victory:
He must start fast. Roger is playing very confident tennis right now with extreme ease. If he gets off to a slow start this could have him second guessing himself and get him out of the unbelievable zone he is currently in. I think it is very important for Roger to win the first set.
Roger must continue his hot serving and keep his first serve percentage above 60%. Roger is the best one-two combo player in the history of tennis. If he serves well he can continue this trend and hold serve easy. If he has to put in a lot of second serves and get in extended rallies, advantage Wawrinka.
Federer must take advantage of Stan's second serve. Stan is also great at controlling points on first serves. If Federer can keep up his amazing timing on returning and coming in that might be too much pressure for Stan to deal with, especially is Roger serves well.
Roger has to convert over 40% of break point opportunities. If you are a Fed fan you know what I mean. It seems that in big matches that Federer loses he always gives himself tons of chances but tends to blow almost all of his break-point chances.
Roger has to win in 4 sets or less. I think the longer a match goes in the last couple of years Federer starts to doubt his high level of difficulty shot making that he so relies on. You are never going to see Roger gear down and just play consistent tennis. I think over 5 sets sometimes you need to go to a more conservative plan B and ramp it back when you feel your rhythm come back. Federer plays in 5th gear right out of the gates and can actually bring it to a 6th gear where he literally just starts to embarrass his opponent almost toying with them. But in a long 5 set match is a world class champion at his age I think the unwillingness to pull in his game a little bit from time to time has hurt him.
I love both of the these players but I really hope Roger can give us one more Grand Slam Major Victory. The tennis world would love to see that. Go Federer!!!
Below are some pretty cool videos of the two for you to enjoy. I hope you liked this post:
2015 French

Rome Hot Shots by Federer
Stan Not Feeling Mirka
Fed 2015 US Open Practice Tweener vs Stan
2014 Wimbledon Fed/Stan