One Handed Backhand Tip: Best Tennis Tip to Add Power Instantly to Your One Handed Backhand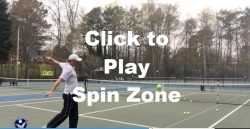 This is a pretty cool video. I show you proof how changing one little habit can change your racket head speed and ball speed by about 20 miles an hour.
I am using a sensor on my racket that calculates everything to show you  how a simple tweak can really make a big difference… enjoy.
Improve Power and Spin Free Backhand Training Series