Forehand Lesson: Hit the Heavy Rafa Forehand with my Boat Tip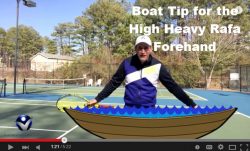 Many tennis players struggle to hit the ball deep in the court. Today's forehand tennis lesson teaches tennis players to pretend they are in a sinking boat and must lift the water out of the boat to stop from sinking.
This is a great way to think about getting under the ball to really give it that high heavy spin like Rafa Nadal puts on his shots.