How to Crush the Approach Shot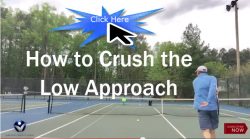 Today we tackle one of the toughest shots in tennis. The low approach shot. This is a tough shot because it is so easy to miss. You  need to attack this ball because you are coming to the net.
But you don't want to over hit and miss. This tennis instructional video shows you the proper amount of power and spin you need to but on the ball to have a successful journey to the net.