There is a big list of best players in the game of tennis and you might be a fan of some player. But at a point of time there is always a player who stands out and is unstoppable, he is the king at that time who rules the game. Whoever you might be following, you cannot deny that Djokovic is on the top right now. Apparently, we are bound to think what makes him unbeatable? This article covers our top reasons that make Djokovic unconquerable in the current times.
Why are we writing this? Oh well, don't you want to know what it really takes to dominate one game completely at an international level? Yes, you do! Read on and have fun.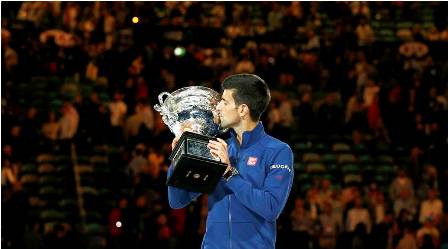 The top 5 reasons that we consider as Djokovic's weapons that make him invincible:
Best Rally Ball: He does a rally ball in such a way that looks to the audience as his copyright shot. Rally ball is something that you can hit comfortably over and over again. Even if you are made to do a rally hundred times you won't miss it. We respect every player's game but Federer's rally is a little too flat and Nadal's rally ball has too much spin and he doesn't use it to take an advantage of his amazing rally ball. So this makes Djokovic's rally the best one ever, he can never miss it.
Belief and Work Ethics: Belief creates the actual facts' and this was made evident when in 2011-2012 Djokovic really started to beat the best players of that time. He himself told that there were times when he was filled with overwhelming faith and belief that made him resolute about breaking through and defeating every player out there. He always represented himself as super competitive to those great players and that depicted his creditable work ethics.
Gluten free diet: This is an uncommon thing to put here but we all know that tennis game is a game for only the fit ones. And needless to mention that Djokovic is now considered one of the fittest players in the present times. When he was number three, he was not able to overcome his problem of having difficulty in breathing and labouring. But then he switched to a gluten free diet and all those troubles went away. It's a huge commitment to follow a gluten free diet but he did it and said that this worked for him like a magic pill. He sits in peace and focuses on his food while eating it, that's how faithful he is to his aim of winning.
Serve and Return of serve improvements: No one is free of mistakes; Novak also had a major technical glitch in his serve shot before he really worked upon it. He did a great trophy pose but his arm used to lag. By analysing and learning he is now great at serve shots and return serve shots. He was started to get compared with Andre Agassi and then eventually people started to say that Novak has clearly got a better serve than What a great accomplishment, isn't it?
Nadal and Federer in the twilight: They were the best and indomitable once but the fact remains intact that the game is evolving and they are ageing. Djokovic over took them purely on the basis of his talent.Djokovic saw that the bar of the game has raised too much and he was young enough to get determined to reach the raised bar.
These were few of the great things about Djokovic that made him reach the top. In his 2016 press conference after Australian Open enunciated some amazing words of wisdom, his answers were fascinating. Here is the link, you can follow to see the video: https://www.youtube.com/watch?v=kA9pUAEYgLg you can also tell us your opinions on the same topic.